Complete Story

12/18/2020
Ending a rough year on a positive note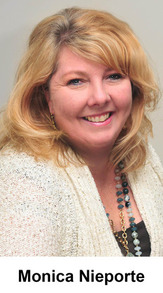 By Monica Nieporte, OMNA President and Executive Director
Happy end to 2020 to all of our members!
There were days when 2021 felt like it was some far, off horizon that eventually we'd get to but who knew what any of us would have to encounter in the meantime.
Here at ONMA we have been weathering the pandemic along with the rest of you and after a summer of protests and civil unrest, election and post-election deep-dive into "how the democratic sausage gets made" – we don't know about you but we are tired.
We are eagerly anticipating 2020's retirement on Dec.31.
So, how about ending the year on a positive note?
Longtime staff members Pat Conkle and Sue Bazzoli are both looking forward to spending 2021 in a more leisurely fashion. Both of these valuable employees made the decision to retire and move on to the next chapter of their lives. They both served us very capably and we wish them happiness and health as they walk away from the world of deadlines, tear sheets and zoom calls.
The general assembly is coming to a close and it appears we will survive another lame duck session full of mischief and mayhem without a death blow to public notice or any wacky new policies that will make our business more challenging. Look for the debate on public notice to rear its head again though- this one seems to be a perennial favorite. Ironically, those who claim to be most in favor of small government and transparency are the very ones who can't seem to let go of this topic.
Unfortunately a COVID outbreak and last minute hang wringing by interested parties is going to delay us getting our open meetings bill through until the new general assembly convenes. We're close and we hate to see this delay but we're also confident we did move the ball a considerable way down the field and won't have to start all over again.
And that brings us to our final piece of optimistic news. Ad Ohio suffered some big losses in the second quarter right along with the rest of you. But, the fourth quarter is a different story and one that gives us great hope that we will all bounce back as this economy recovers. The fact that the Ohio Department of Health sees us as a crucial piece to their communication strategy for Ohioans as we roll out vaccines and try to keep everyone safe is affirmation that we remain the most effective and most trusted source of information for our communities.
Wishing you all a happy and healthy 2021!