Complete Story

12/04/2020
Sue Bazzoli to retire after 16 years at ONMA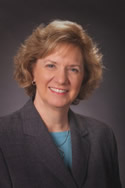 Sue Bazzoli will retire as the Ohio News Media Association's manager of administrative services at the end of December after 16 years with the association.
ONMA members are urged to send cards and messages to Bazzoli before she retires.
Bazzoli started at ONMA as an executive assistant in December, 2004. She was previously employed by Davon/Patton Investment Holdings, Central Ohio Special Education Regional Resource Center, and Holbrook, Manter & Rogers.
"I have worked with Sue for many years, first as a member of the convention committee, later as a trustee and most recently as her supervisor," said Monica Nieporte, ONMA's president and executive director. "Sue has always represented the association and its members in a professional way. She was a great ambassador for us when she was working out in the field setting up logistics for our annual convention and our training workshops. She was a great liaison between ONMA and all of our service providers. One thing I learned quickly was that I could always count on Sue. If she didn't have the answer, she sought it out. We will all miss her expertise and institutional knowledge and her light-hearted humor and easy-going but very competent manner."
Bazzoli said her best memories of at ONMA have been the people she worked with on various committees, at the conventions and training sessions, and going to different parts of Ohio for the board meetings.
"I had the opportunity to visit places around Ohio that I had never been before," she said.
Walt Dozier, AdOhio's director of advertising, worked with Bazzoli for her entire 16 years at ONMA and said he appreciated all that she has brought to the organization, week-in and week-out. "Sue's professionalism, friendly demeanor and great sense of humor made her a joy to work with," he said. "I'll miss being able to go to her for 'this document' or 'that document' or just working with Sue, in general. I wish her a tremendous and fulfilling retirement!"
Bazzoli said she plans to spend her retirement doing volunteer work, traveling, and enjoying time with her husband, Harvey Rossetti, and her five grandchildren: Delaney, 8; Hunter, 8; Scarlett, 7; Graham, 6; and Louie, 5.
"I'm thankful to have had this job for so many years," Bazzoli said. "I've worked for three executive directors and with great co-workers. I have met so many nice people through the years and wish them continued success in their newspaper careers."
Monica Nieporte added, "As a trustee I always enjoyed seeing what Sue had coordinated with the host market to set up for us as we rotated our meetings throughout the state. I was never disappointed and I think I speak for many of us when I say that we miss those times and those days. It was a fun experience getting to see some of the corners of Ohio we might not get to otherwise. I want to thank Sue for all of her years of dedication and hard work to our industry and wish her a wonderful retirement full of time with her grandkids, travel, golf and rainy days at home reading books."