Complete Story

10/16/2020
Help your newspaper employees lead by example this election season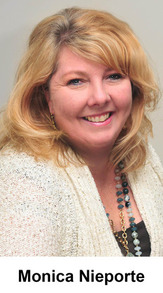 By Monica Nieporte, OMNA President and Executive Director
I've asked you to make sure you educate would-be voters about their options to cast a ballot.
I've asked you to educate your readers about coronavirus and the precautions that public health experts have strenuously recommended to keep us all safe and keep the numbers down.
I've asked you to take a stand on your editorial pages in honor of our centuries old traditions of letting readers know where we, the paper as an important leader in the community, stand on key issues impacting our daily lives.
Now I have one more request for these stressful and trying times.
Give your employees a free "hall pass" and allow them to go early vote without dinging them for personal time off or vacation hours. Let them extend their lunch 20 minutes, leave a bit early or come in "fashionably late."
Ask them to bring you their "I Voted" sticker if you must have some proof they didn't just really spend the past hour at Starbucks but encourage your employees, who like you, are members of the prestigious Fourth Estate, to go vote in an election that is critically important.
Maybe they need to take an elderly or at-risk relative to the polls, maybe your offer will allow the little window in their schedule where they can set aside all their other commitments and take the time to vote. Don't make them wait until Election Day when lines could be long. Don't let them put it off until one of the few weekend opportunities for early voting arise later this month because there are children's sports games and other Saturday and Sunday obligations that might get in the way of their good intentions.
I was surprised today when polls opened in the state of Georgia and there were some early voting lines that lasted 6-8 hours. We have not heard of such long lines here in Ohio. In fact, most report a very smooth process that takes about 30 minutes in most counties, perhaps a little longer in metro areas. But that doesn't mean it couldn't happen. As we get closer to Election Day and more and more people feel compelled to make their voices heard, the lines will get longer.
Give them the gift of a tiny bit of time so they can participate in our political process or help someone else exercise their right to vote. Consider it a public service, which all of us hold in high regard and our papers routinely champion and participate in.