Complete Story

10/02/2020
This is the time for community newspapers to shine!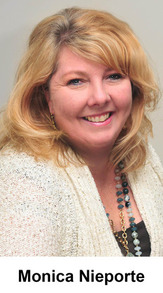 By Monica Nieporte, OMNA President and Executive Director
I watched the coverage of President Trump's recent visits to Ohio and frankly was very sad when I saw Lt. Gov John Husted booed by the crowd when he encouraged them to wear masks.
Even sadder was the fact our president chose not to correct the hecklers.
I found the visuals and audio disturbing and the reason has nothing to do with politics.
Obviously we the media have failed to educate the public about basic scientific facts that could keep them safe from coronavirus.
Are we, the media responsible for the fact there is even a "mask debate"? Elevating the profile of groups like QAnon so much that even when we write about "cannibalistic child sex-trafficking rings" it somehow seems "normal" or "everyday" for those phrases to be on page one? What planet are we on here folks? Just because someone posts something on Facebook doesn't mean the media has to report it. Just because someone makes an outrageous comment, does not make it "news".
Earlier this week I watched a grown woman have a meltdown more fitting of a toddler in the Walmart parking lot as she realized she left her mask in her husband's pick-up truck. "Bobby, Bobby get back here! I forgot my *!?*# mask. I am SOOOOOO done with this!", she wailed as if she had just walked across shards of glass to get back to the truck and retrieve her mask. The animation factor was unreal. I laughed at her and calmly asked my husband whether I should wail and scream about having to wear shoes into the store or wear my seat belt as we pulled out of the parking space? Which intrusion on my "freedom" should I be more upset about?
Even more surreal was the viral video of an event just down the street from my house that made international news. I live in Logan and it was our community's school resource officer who arrested a woman for trespassing on school property after being asked to either abide by the mask mandate or leave. When she was briefly stunned with a taser for fighting the officer as he struggled to place her in handcuffs and escort her out of the stadium, some media quickly decried that the spectator was tased for "not wearing a mask". No she wasn't. But it is so much more scintillating to say she was than to say it was a routine disorderly parent at a middle school football game. It was only international news if in fact the woman had been tased for not wearing a mask. Headlines are important because they frame everything that follows.
Last week I felt sorry for Lt. Gov Husted who, along with Gov. Mike DeWine, has done a pretty good job of managing the pandemic in Ohio and for some reason they were being cast as the bad guys. Most Ohio residents would disagree as evidenced by recent polling that shows 73 percent of Ohioans approve of how DeWine has handled the crisis. Apparently those at the Trump rally were part of the other 27 percent.
We wouldn't tolerate the media framing tobacco use as a political "sign" – that person is a smoker, he/she must be for Trump – we should have the same standard for other health issues. Are only Biden voters "hand washers"? I think not. This mask debate is ridiculous and is jeopardizing jobs in our communities. Doesn't anyone care about that? Everyone seemed to care when Big 10 football was threatened. What about caring when your downtown restaurants will be safe to allow indoor dining at full capacity again? If everyone has to buy-in and wear masks for two months to make that happen, isn't it worth it? Are we too afraid of alienating readers or advertisers to say that?
It's getting cold outside friends. All these outdoor patios were fantastic in June but won't be feasible in Ohio in January.
Have we done enough to educate our readers about why it is important to follow this advice and get this as much in-hand as possible before flu season starts hitting us full force?
Have we done enough to educate our readers about making sure they have secured their right to participate in next month's election? How to register, how to vote? Have we encouraged them to participate? There has been much attention paid to absentee voting but what about encouraging in-person early voting? That takes what may or may not be going on at the postal service completely out of the equation,
Traditionally it is in times like these when newspaper publishers and editors lead their communities through a crisis. They educate. They inform. They persuade. They rally and unite readers behind a common cause. Are we doing all that? Are only some of us doing that while others are sitting on the sidelines paralyzed by fear of being branded as part of the "fake news media" or "Trump propaganda"?
This is a time for community newspapers like yours to shine. People don't know what or who to believe anymore but the people in your community have trusted your newspaper for generations. Use your voice. Use your soapbox. This is what we've always done in hard times. We cannot suddenly say we no longer have the stomach for it and we must educate our readers or else social media will continue to do it for us. For every reader who tries to bully you back into silence, there will be other readers who will be relieved that they still have a newspaper that isn't afraid to put its chips down on its own editorial page and tell readers where they stand on these hugely important issues.