Complete Story

07/05/2019
The Vindicator was their community's voice and historian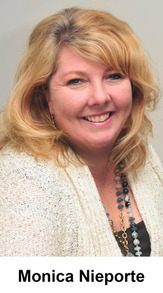 By Monica Nieporte, Executive Director
Last week we were all hit with the sad news that The Vindicator, which had just observed its 150th anniversary as Youngstown's daily newspaper, will cease publication in August.
While my first thought is of course for the dozens of employees and their families, I also feel a sense of mourning for the entire community. I'm not sure people really understand what they're losing.
The newspaper is not the only voice of the community, and in today's age of social media, it is not the only source of local information. But it has been, for many generations of Mahoning Valley families, the community's historian.
Sure, people can look at their church's Facebook page and find out about the ice cream social. They can go to their local high school's website and get a few tidbits about what's happening there. But it is a lot of surfing the net for the things that matter to each individual and they're only looking for what they already know to look for. And it takes a lot of time, which is in shorter and shorter supply. Newspapers are the aggregator of many, many events, facts and milestones of the residents' lives. How many times have you stumbled across something in your local paper that you weren't intentionally searching for but found compelling nonetheless?
Those who appreciate history or engage in genealogy research will tell you that the archives of the local newspaper – particularly if they are electronically searchable – can be a gold mine of information about our ancestors and what our communities were like in generations past.
I wonder, without newspapers serving as the daily or weekly scrapbook of life in a community, how will future generations find out all of the interesting things about us beyond the basic vital statistics that are found in government records? What will the people of Youngstown do without The Vindicator to write stories about someone's Eagle Scout award, grand slam home run, 100th birthday celebration, or return from military service? Yes, our industry has changed but I believe it doesn't have to come to this in every community.
If residents value having their local newspaper act as the historian and record keeper of our times, they should support their paper financially through subscriptions and advertising revenue. While most people see no harm in listing their yard sales or their used cars on free online bulletin boards, those "free ads' on Marketplace or Craig's List actually comes with a hefty price. Just ask Youngstown. The community will no longer have a business that acts as the community's archives. No more easy way to find obituaries, weddings or graduations. No more quick reference on candidates running for office, pictures of celebratory touchdowns or a one-stop place to find all of the weekly specials at local restaurants and retailers.
Life will go on, but the memory of life in Youngstown after August 2019 will be much more difficult to pass on to future residents without The Vindicator or some other product dedicated to local journalism taking its place. When people ask you, "Have you heard about The Vindicator?" Let them know how important it is for them to be a stakeholder in the success of their hometown newspaper. Regardless of how many days it is in print or online, if there are local reporters, editors and sales people documenting local news, sports and commerce in their community, they are fortunate. As for newspaper staff in those communities, don't take for granted that the community is invested. We must constantly earn their engagement with every single edition.